Refugee Camps
---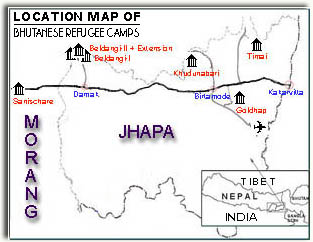 Location and Population
Bhutanese refugees are housed in the seven United Nations High Commissioner for Refugees [UNHCR] administered camps in Southeast Nepal. They are Beldangi-I, Beldangi-II, Beldangi-II Extension, Goldhap, Khudunabari and Timai situated in Jhapa district of Nepal and the Sanischare refugee camp in Morang. The total number of the camp residents as of June 1999 figure at 96,617 which includes 47,287 female population.
---
Camp-wise Bhutanese Refugee Population
As of June 1999
Data source: RCU, Chandragadi, Jhapa, Nepal.
Camp

Population
Male
Female
Total
Beldangi I
8516
8072
16758
Beldangi II
10504
10222
20726
Beldangi II Extension
5378
5139
10517
Sanischare
9623
9206
18829
Goldhap
4487
4156
8643
Timai
4721
4470
9191
Khudunabari
6101
6023
12124
Total:
49330
47287
96617
Visitors Guide To Bhutanese Refugee Camps
Visitors to the Bhutanese refugee camps may follow the guidelines below.
Permission

Visitors need to obtain a Permission Letter from the National Coordination Unit for Refugee Affairs [NUCRA], Home Ministry, His Majesty's Government of Nepal, Singha Durbar, Kathmandu, prior to visiting the Refugee Camps. It would be better to get a special approval, which could be mentioned in the Permission Letter, from the NUCRA, for taking photographs in the refugee camps. They need to intimate that they have the permission to visit the camps to the Deputy Director, Refugee Coordination Unit, HMG Nepal, Chandragarhi.

Travel

Visitors may take a flight from Kathmandu or travel by night bus.

If you wish to travel by air, you may take a Kathmandu-Biratnagar flight [Flight : Necon Air or Buddha Air; Duration : 55 minites]. Then you may take a taxi [90 minutes] to Damak. Should you intend to travel by road [Duration of the journey: 12-14 hours], you may board a bus from Kathmandu to Damak. Damak is located near the western camps [Beldangi-I, II, II Extension and Sanischare camps]. You can also visit the eastern camps staying in Damak.

If you plan to stay in Birtamode, which is nearer to the western camps, you may fly to Bhadrapur [Cosmos Air/Buddha Air/Necon Air; Duration : 60 Minutes], travel by taxi to Birtamode [Duration: 30 Minutes] and stay in a hotel. You can also travel by night bus from Kathmandu to Biratnagar.

Usually visitors chose to stay in Damak and visit all the camps.

Food and Accommodation: LWF Guest House provides ideal food and accommodation facility. If the guesthouse is not free, ordinary hotels are also available in Damak.
YOU MAY CONTACT THESE ORGANISATIONS FOR HELP.
Bhutanese Groups
AHURA Bhutan : Ratan Gazmere/Dilip Bishwo, 00977-23-80382, Damak.

BRAVVE : Mangala Sharma, 00977-23-40231, Birtamode.
Email: bravve@jhapa.brt.wlink.com.np
Relief Agencies
LWF : Tulsi Sharma, 00977-23-80725, Damak.
Email: lwf-brp@ccsl.com.np

SC [UK]: Quazi Ghiasuddin, 00977-23-40131/232, Birtamode.
Email: scfjhapa@mos.com.np

CARITAS Nepal: Father P.S Amalraj, 00977-23-80219
Email: jrsbrep@ecomail.com.np
UNHCR : Head of Sub Office, 00977-23-20776, Bhadrapur.
RCU/HMG Nepal : Deputy Director, 00977-23-20989/337, Chandragadi.
---