Location of seven Bhutanese Refugee Camps in Jhapa & Morang districts of eastern Nepal
---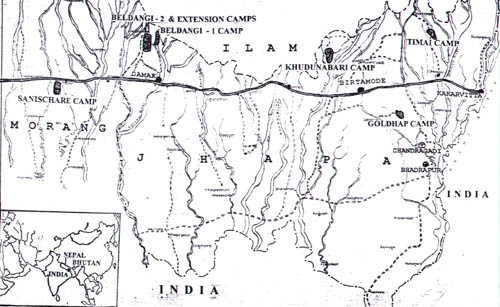 ---
How to get to these camps ?
Sanischare camp is located 15 km west of Damak in Morang district. Other six camps are located in Jhapa district. Beldangi I, II and II Ext. camps are located 6 km north of Damak. The remaining three camps are located around the town of Birtamod, 30 km east of Damak. Khudunabari camp is 7 km north of Birtamod, Goldhap camp is 10 km south of Birtamod and Timai is 15 km east of Birtamod.
Daily service connects Kathmandu with nearby Biratnager and Bhadrapur airports and facilitates communications and transport. The east-west highway makes it easy to reach Jhapa and Morang by road, while the internal road network within the region and in the camps is also fairly well developed. Telephone communication is available from major towns in Jhapa and Morang.