Peace March
---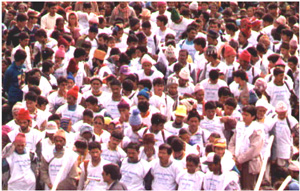 The Bhutanese refugees from their level have been desperately trying different strategies to go back to their country ever since the time they were evicted from Bhutan.
Appeal Movement Co-ordinating Council (AMCC), a coalition of exiled Bhutanese non- governmental organisations and the Bhutanese refugees was established in 1995 with the objective of restoring fundamental human rights and the early repatriation of the Bhutanese refugees. The AMCC in its first phase of the movement sent several appeal letters to the king of Bhutan and the international communities seeking a national reconciliation with the king. In its second phase in 1996, the AMCC organised a series of Peace Marches all the way from the refugee camps in Nepal via India to Thimphu, the capital of Bhutan to put their grievances before the king.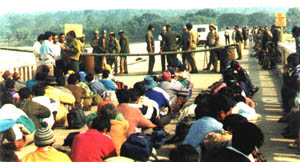 Indian officials firstly intercepted the Peace Marchers and deported them back across the border in Nepal several times.When the Peace Marchers continued with their efforts unabated, they were arrested in thousands and detained in Indian jail for several months. Babu Ram Shingden, one of the Peace Marchers died in an Indian jail. After having secured a release, the Peace Marchers finally entered Bhutan, but they were similarly arrested by Bhutan police and deported into India in the most abominable way.
The AMCC has recently concluded a workshop in which it has drawn up new strategies and action plans to intensify future advocacy and campaign for early repatriation of the Bhutanese refugees.
---
Position of Bhutan, Nepal and India | United Front for Democracy (UFD) | International Initiatives